Non-Tip Bowls
Available in Embossed and Non-Embossed
Get your cat's motor purring when you pour food into our Non-Tip Bowls. Each one is constructed from stainless stainless steel that is molded in one piece. Our true sizing means your cat gets proper and healthy portions at every meal. We powder coat each bowl here in the U.S.A. for a dazzling finish that's chip, fade and rust resistant. A silicone ring at the base prevents skidding and sliding.
Sizes: XS & S
See All Styles & Colors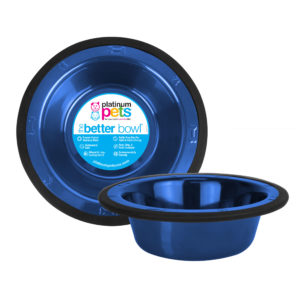 Wide Rimmed Bowls
Available in Embossed
SwitchIN bowls create endless possibilities for our wrought iron diners; birthdays, holidays or just because, Platinum Pets' line of SwitchIN bowls let pet owners splurge on their pets.
SwitchIN Sizes: XS & S
See All Styles & Colors
Heavy Duty Bowls
Available in Non-Embossed
The Platinum Pets stainless steel extra heavy dog bowl has a unique design that will add color to your pet's meal every day.
Sizes: S
See All Styles & Colors